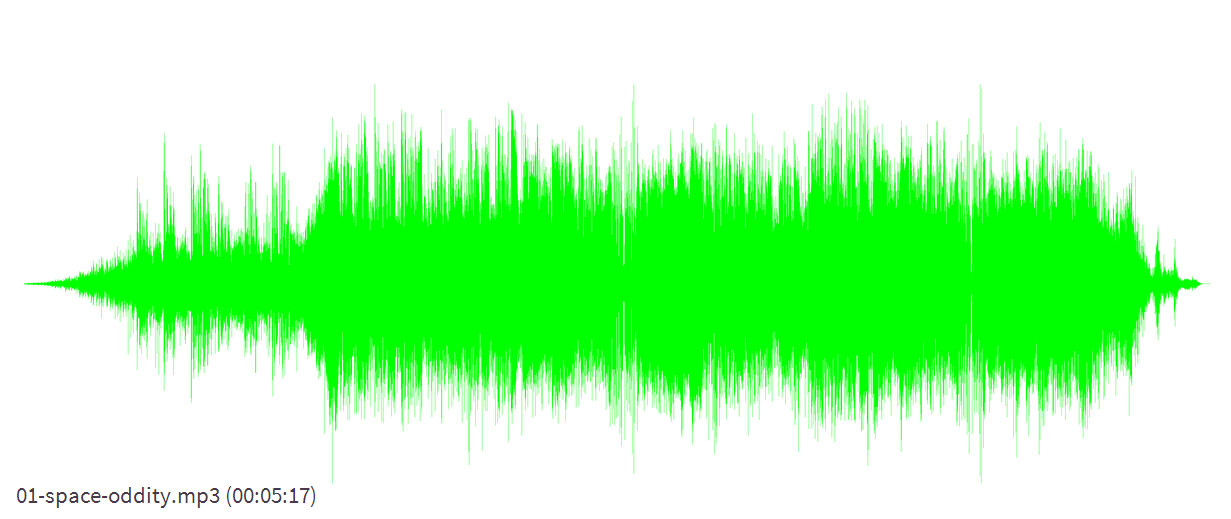 How to create your own DJ audio waveform image
The graphic above is Space Oddity by David Bowie from 1969, generated by the audio waveform generator - looks pretty cool (and green).
An audio waveform is a graphical representation of the amplitude (loudness) of a sound over a period of time. You can clearly see the variations in loudness and the intensity of the song by looking at the waveform.

This audio waveform image generator automatically creates graphical audio waveforms from audio files. At the moment mp3 and m4a files are supported. To create your own audio waveform image you first have to upload an audio file, the file is processed into a format readable by our server software and then is ready to convert to a waveform graphic.

After uploading your audio file you will see an options page, here you can select the size and colours of the waveform. You can change the foreground and background colour. If you want the background to be transparent leave the default blank background colour.


Create custom audio waveform wallpaper


Because the waveforms look cool you can also choose to create a desktop, tablet or mobile phone dj audio wallpaper from the waveform. This is great for DJ's or musicians who want a cool wallpaper of their latest DJ set or remix. You might even want to have your favourite song as your desktop wallpaper! The image at the top of this page was created using a waveform and wallpaper template from this site and looks great when set as a desktop wallpaper.

When you have created the waveform or wallpaper graphic you can download it, or share it on Facebook and Twitter. You can also go back to make changes to the waveform or wallpaper if you want. The audio files will automatically be deleted from our servers after 24 hours, the waveforms and wallpaper images will be available for longer.

Have fun creating your own unique DJ audio waveform images and wallpaper and please share this site with your friends if you like it.